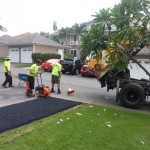 PATCHING
Asphalt repair is important for your business. You want to make a good impression on anyone who visits your business. Good upkeep of the physical plant with parking lot repairs sets the stage for everything else.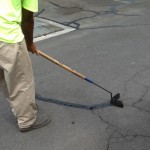 CRACK FILLING
Filling cracks in your asphalt driveway or parking lot surface is a very important part of extending the life of the asphalt surface. This prevents moisture from penetrating the asphalt surface, and keeps vegetation from growing in the cracks.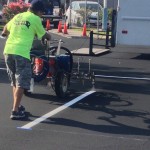 STRIPING
Your parking lot striping wears away over time, which is why re-striping is the most common and routine type of asphalt maintenance. As soon as the paint is applied to your parking surface, it begins to deteriorate.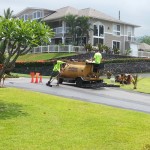 SEALCOATING
Sealcoating not only beautifies your investment in your asphalt pavement, but sealcoating also move than doubles the life of the pavement. You must sealcoat to protect the asphalt from ultraviolet light, water penetration and chemical attack
Like the cover of a book, the exterior of your building and parking lot are what your customers base their first opinions on. I know, "don't judge a book by its cover." Well, guess what? People still do. That is just the way it is. And you only get to make one first impression, so it is important to make it a good one. After all, who wants to lose business because their parking lot is a mess?